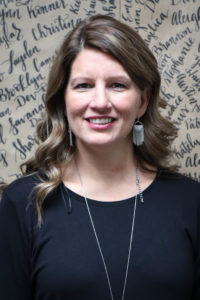 Susanna Kavanaugh is the Executive Director and co-founder of The Least of These Carolinas. She has a heart for children and is a great advocate for their needs. Susanna and her husband, Sean, became involved in orphan ministry in 2009 when they became foster parents. They have fostered long term placements and have grown their family by adoption through foster care. She and Sean live in Gastonia with their three daughters and one grown son who is married. Susanna has a desire to help the children of her community and help restore hope in their broken lives. Her prayer is that these children and their families would feel the love of Christ through this ministry.
Nakisha Wenzel is the Owner & Operator of Big Red's Cafe in Kings Mountain, NC. She and her husband, Michael, have been married since 2013 and are the parents of an adventurous little boy!
She has served on staff as a grant writer & team member for several nonprofit organizations; coordinating fundraisers, facilitating programs for youth & children, providing educational resources, and creating opportunities for children & families to grow.
She is the Senior Pastor of King's City Church and is passionate about serving the least of these.
Student Pastor First Free Will Baptist Church, Gastonia
Chad has been married to his wife, Courtney, since 2006 and they have two daughters, Raegan and Piercyn. He is the Student Pastor at First Free Will Baptist Church in Gastonia where he desires to see students and their families find meaningful relationships with Jesus. They became licensed foster parents in 2016.
Jim Gallagher is a Gastonia City Councilman. He & his wife, Charmaine, have made Gastonia their home for the past 30 years. They have raised 2 children, Jordan, a CIO & Caroline, an attorney. Jim has a servant's heart to help and serve the people of Gastonia and Gaston County, especially the children in foster care that live among us — the Least of These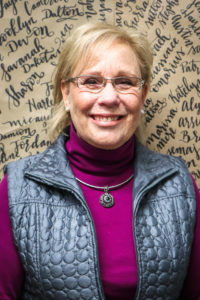 Mamie Rudisill was raised in Gaston County and now resides in Lincoln County with her husband, Gary Rudisill. She recently retired as founder/CEO of M.R.Printing Solutions, Inc. Mamie and her husband are members of City Church. Mamie considers it an honor and a privilege to be able to serve on the Board of the Least of These Carolinas, and to follow as He commands in James 1:27: "Here are the kinds of beliefs that God our Father accepts as pure and without fault. When widows and children who have no parents are in trouble, take care of them."
Blake Harris has been married for 14 years to his wife Stephanie and has sons Hayden (8) and Pinson (4). Blake is a 2003 graduate of UNC‐Chapel Hill majoring in Business Communication and minor in Spanish. Blake has been living in Gaston/Lincoln County since 2007 and attends Venture church in Dallas, N.C. Blake and his family have a passion for kids and community involvement and honored to serve on the board of directors. Blake works as a regional general manager for Cintas corporation which also helps support delivery of Bags of Hope to remote counties in NC to further expand the geographic reach of Least of These Carolinas.
Frank and Angela were married in 1990. They have two wonderful Daughters, Lindsay 27 (Married to Josh Clontz) and Morgan 21. Lindsay and Josh are currently serving as Foster Parents with two amazing kids. Parental rights have been terminated for both children and the adoption process has begun. Adoption should be final by fall of 2021. Lindsay is a nurse at Covenant Village and Morgan attends Gaston College. Frank and Angela own Metro Print in Mt Holly. Currently they attend Venture Church in Dallas, NC.
Frank's grandparents served as Foster Parents in Tuscaloosa, AL. While attending his grandmother's funeral, he was deeply moved by the stories that were told by the children they fostered. They spoke of the impact his grandparents had made in their lives. Frank and his family are honored to serve foster families in our community.
Scott D. Alexander, CPA was raised in Gaston County and continues to live there with his wife of 30 years and their triplet daughters. He and his family are active members of First Free Will Baptist Church in Gaston County. He is a graduate of the 1987 class of UNC-Charlotte, where he received a Bachelor's Degree in Accounting and has been a Certified Public Accountant for the past 28 years. Scott is elated to give back to his hometown community by serving on the Board of Least of These Carolinas.
Ryan Schalles has been married for 12 years to his wife Lindsay and has a (1) year old son and (5) year old daughter. Ryan is results driven. He is a strong business professional with a Bachelor of Science in Business Administration with a concentration in Marketing from Bluefield College in Bluefield, VA Currently, Ryan and his family attend "Moments of Hope" church where David Chadwick leads worship as the pastor of the church. Ryan is currently a Franchise Business Consultant at Wingstop. Ryan is passionate about giving something back to his community! When you give back, you get something important in return – the knowledge you've made a positive change in the community and lent a hand to someone in need. Ryan is excited about the future of the "The Least of These Carolina's" organization and assisting more foster children in finding loving forever homes. It's all about making a difference in these children's lives with one smile at a time.
Jim Lanier has been married to his wife Reneé for 32 years and live in Cramerton. He has 3 wonderful children Meredith, Andrew and Blake. Jim, recently retired as Founder/ CEO of Stanley Environmental Solutions and Earth Farms Organics. Jim attends church at Central Church of God in Charlotte and has served as an Elder and on World Missions Board.
Somer Wilson is the owner of William Henry Signature Salons, William Henry The Spa and Ballards Barbershop. She and her husband Preston have been on a mission to redefine being an entrepreneur in the beauty industry since 2005. It is their vision to create an atmosphere for beauty and barber professionals to excel in their craft as artists as well as small business owners. The couple's heart behind the mission is to continue the legacies of their late grandparents William Henry Ballard and Reatha Poovey, who both lived beautiful lives serving others with integrity and strong faith.
Somer and her husband have been supporters of LOTC over the years and she counts it an honor to be a part of supporting the children in the community. In addition to her businesses, most importantly Somer enjoys spending her time with Preston and their 3 children on their mini farm in Belmont.
Marlo has been happily married to her husband, physician Dr. John Scheitler, for 30 years. They have resided in Gaston County for over 20 years now where they raised their two beautiful daughters. Marlo has retired from her primary career as a medical social worker in the field of traumatic brain injury. She earned her BSW and MSW from East Carolina University.
Now, you will find her following her newer passion as a commercial, TV and film actress. Always the connector at heart, her love of people makes her the constant advocate and champion of resources for those who need to be served. She and John have been members of City Church for the past 20 years.
Carol was raised in Gaston County, but now resides in Cleveland County with her husband and three girls. She is a partner at Horn, Pack, Brown & Dow in Shelby, NC where her practice focuses exclusively on family, adoption, and juvenile law in Cleveland County and the surrounding counties. Carol's parents instilled in her a passion for the "least of these," by fostering children during her childhood. She obtained a bachelor's degree in social work and decided to enter law school in order to become a voice for children in the child welfare system.
For nearly a decade she served as the Attorney Advocate for the Cleveland County Guardian ad Litem Program, where she represented children in abuse, neglect, and dependency cases. She considers it an honor and privilege to be able to use her knowledge and passion to serve as a Board Member for Least of These Carolinas.